On the Wings of Life
15. 7. 2022 – 31. 12. 2023
Místo konání 2nd floor exhibition hall
Temporary Exhibition
Curator Lenka Sýkorová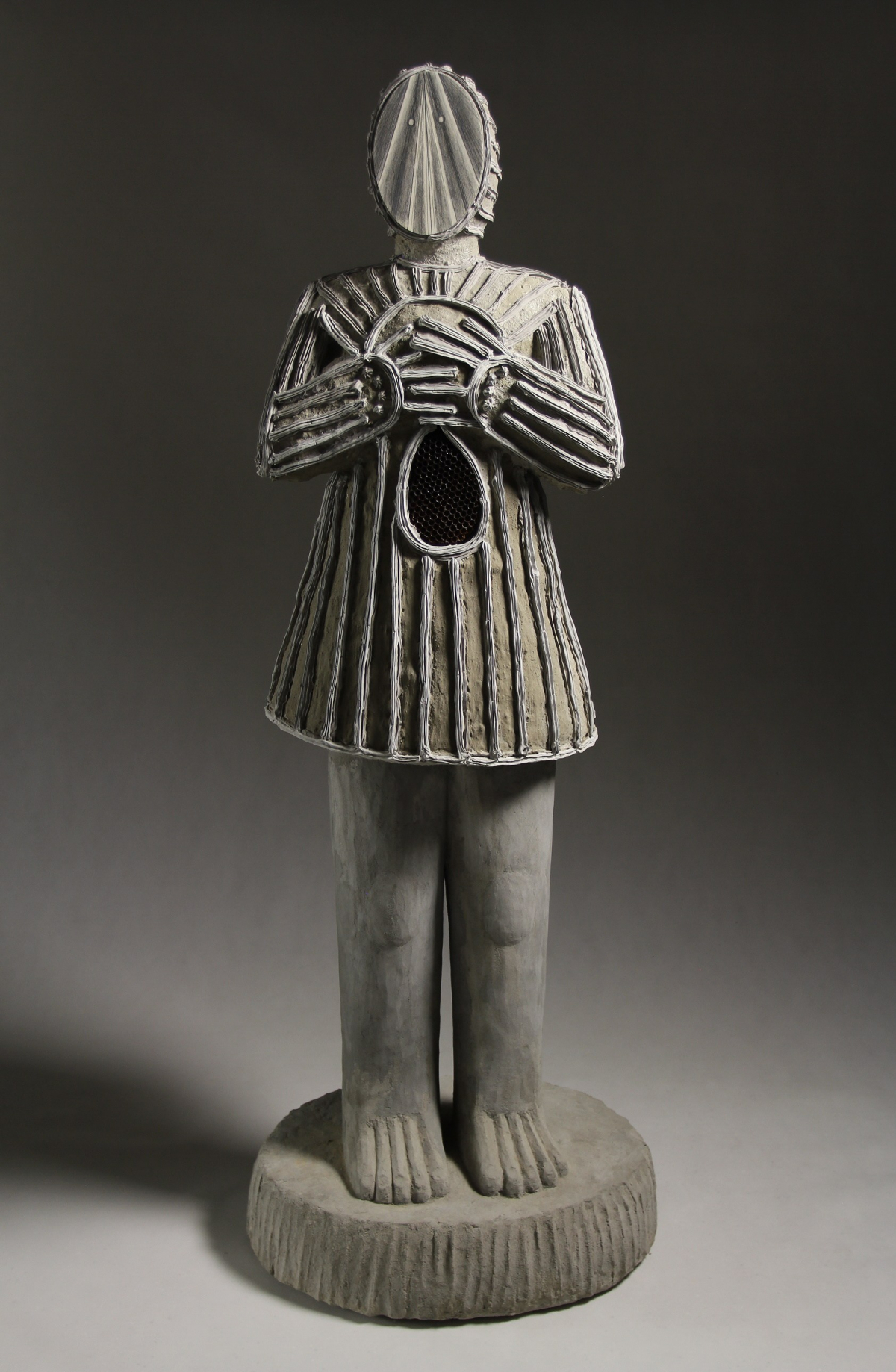 Anna Huláčová, Dívka s pláství na břiše, 2015, beton, akrylátový tmel, plech, kresba na papíře, včelí plástev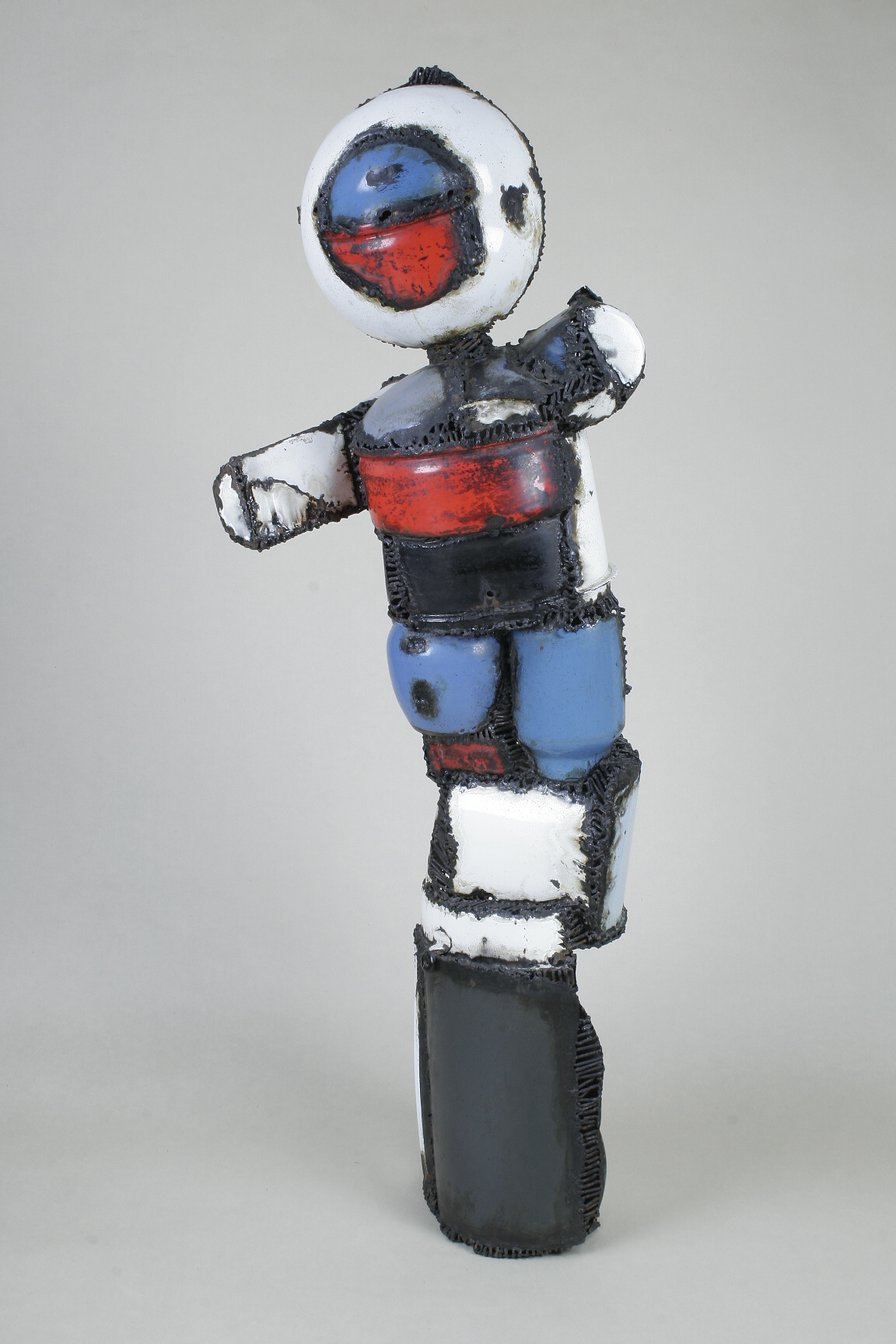 Janoušková Věra, Gesto, 1982. Plastika svařovaná, kov plech, svařovaný, smaltovaný, inv. č. P174.
Josef Macourek?, Původní divadelní opona turnovského divadla, 1874. 7570 × 4820 mm. Sbírka Muzea Českého ráje v Turnově.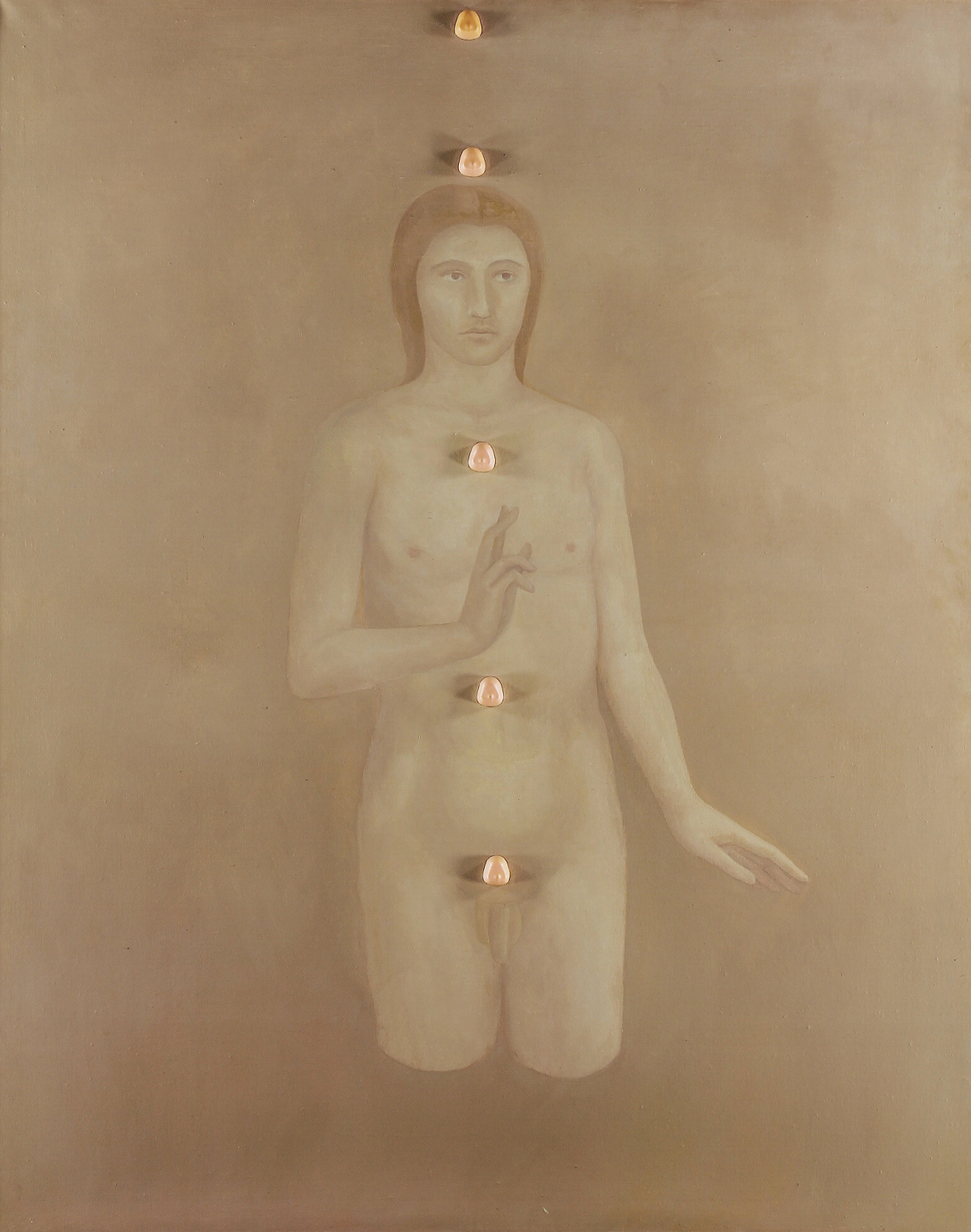 Nikl Petr, Křest, 1991. Olej, plátno, plastická (umělá) hmota barevná, inv. č. O2242.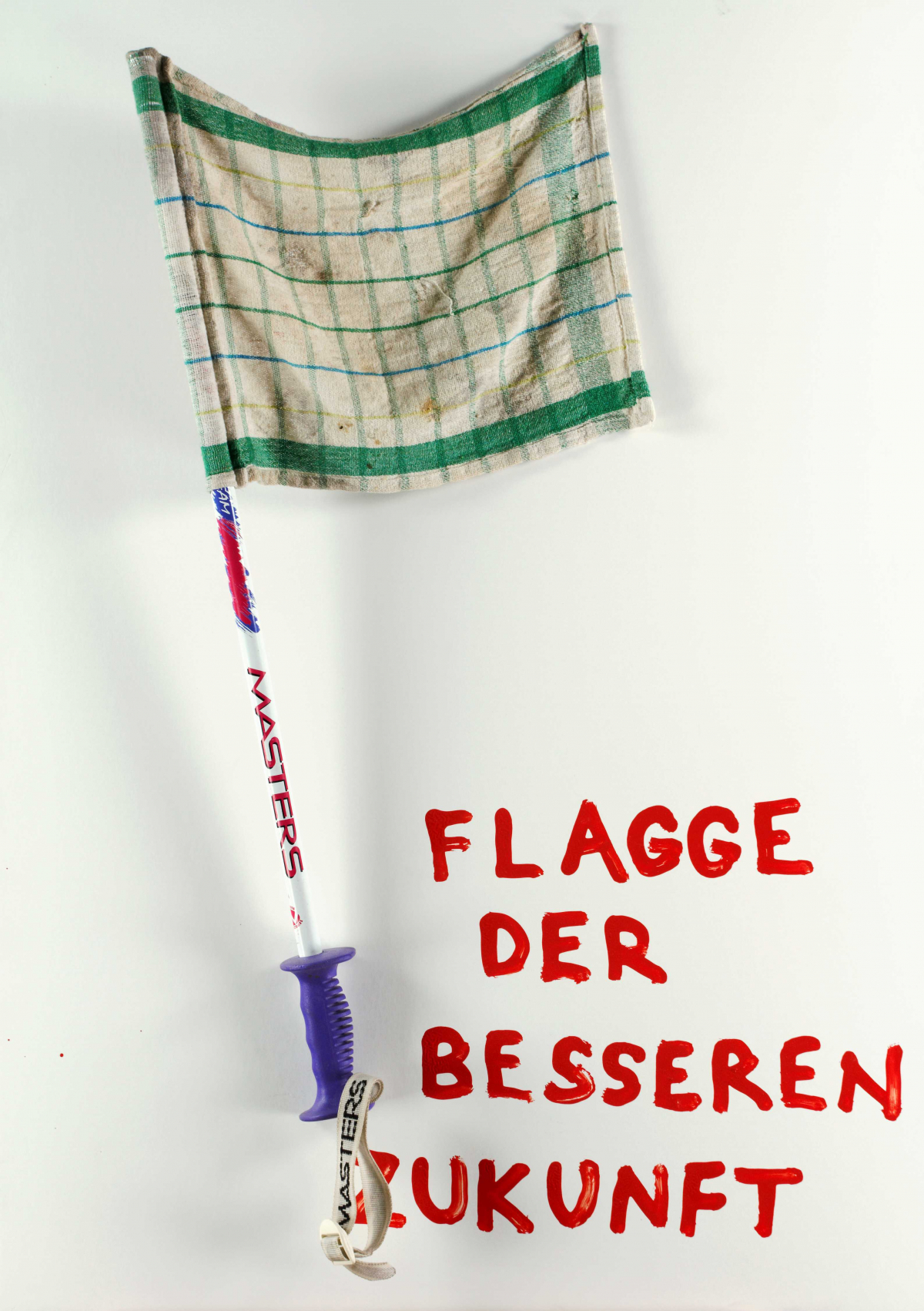 Kintera Kryštof, Flagge der besseren Zukunft, 2019. Reliéf, dřevotříska utěrka, florbalová hokejka, P 328.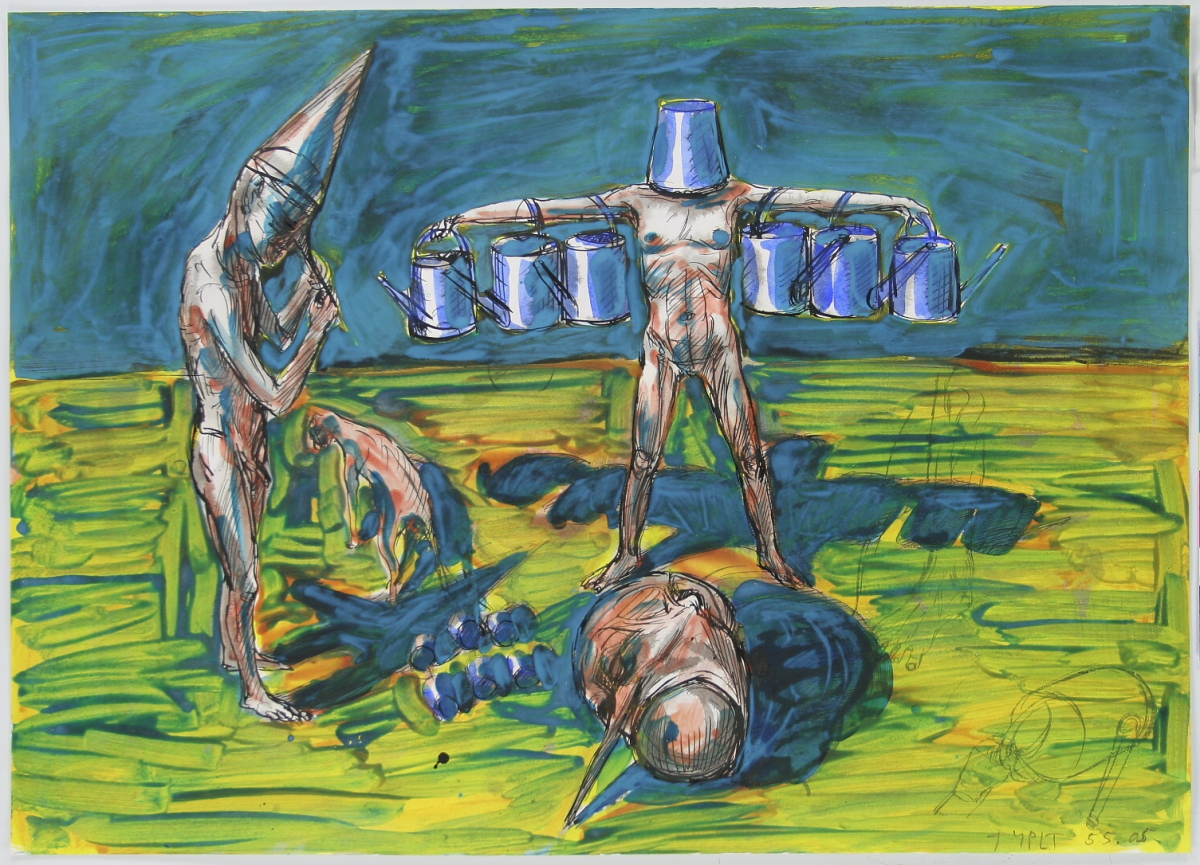 Typlt Lubomír, Žena s konvemi, 2005. Kvaš, papír, inv. č. K3076.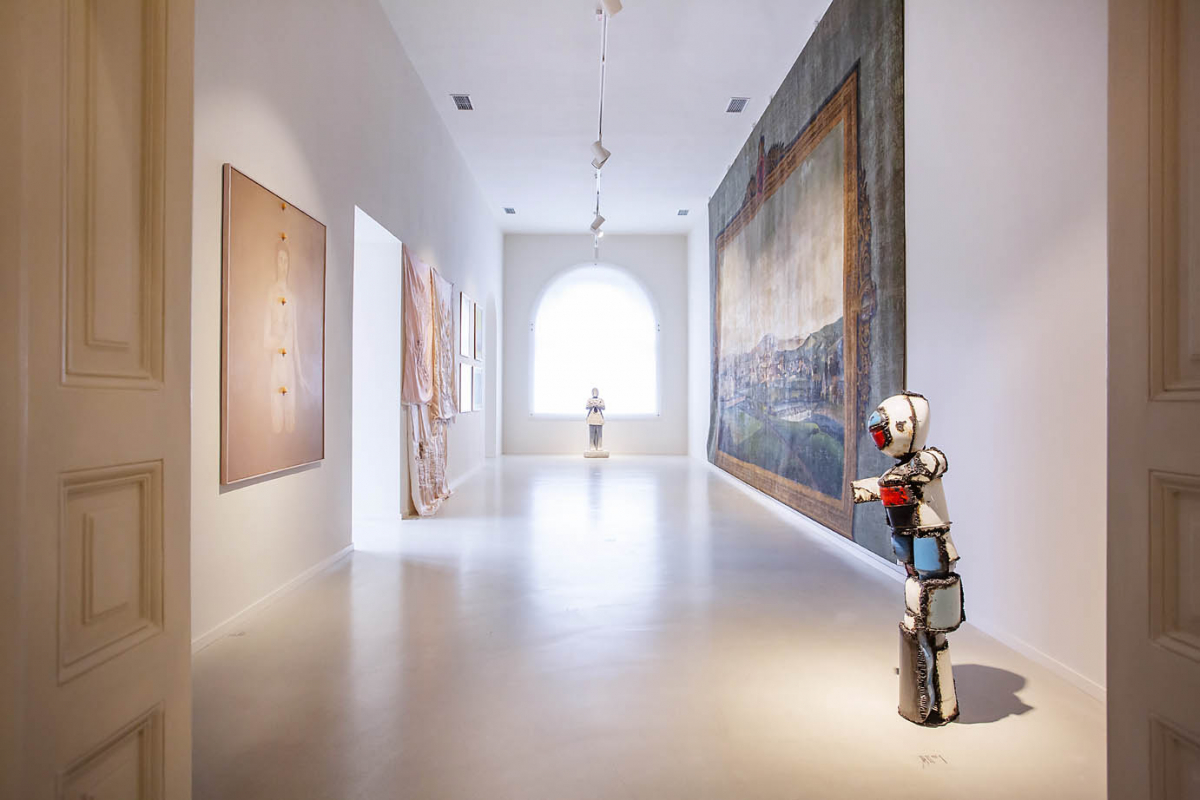 View of the exhibition. Photos © Markéta Bendová, 2022.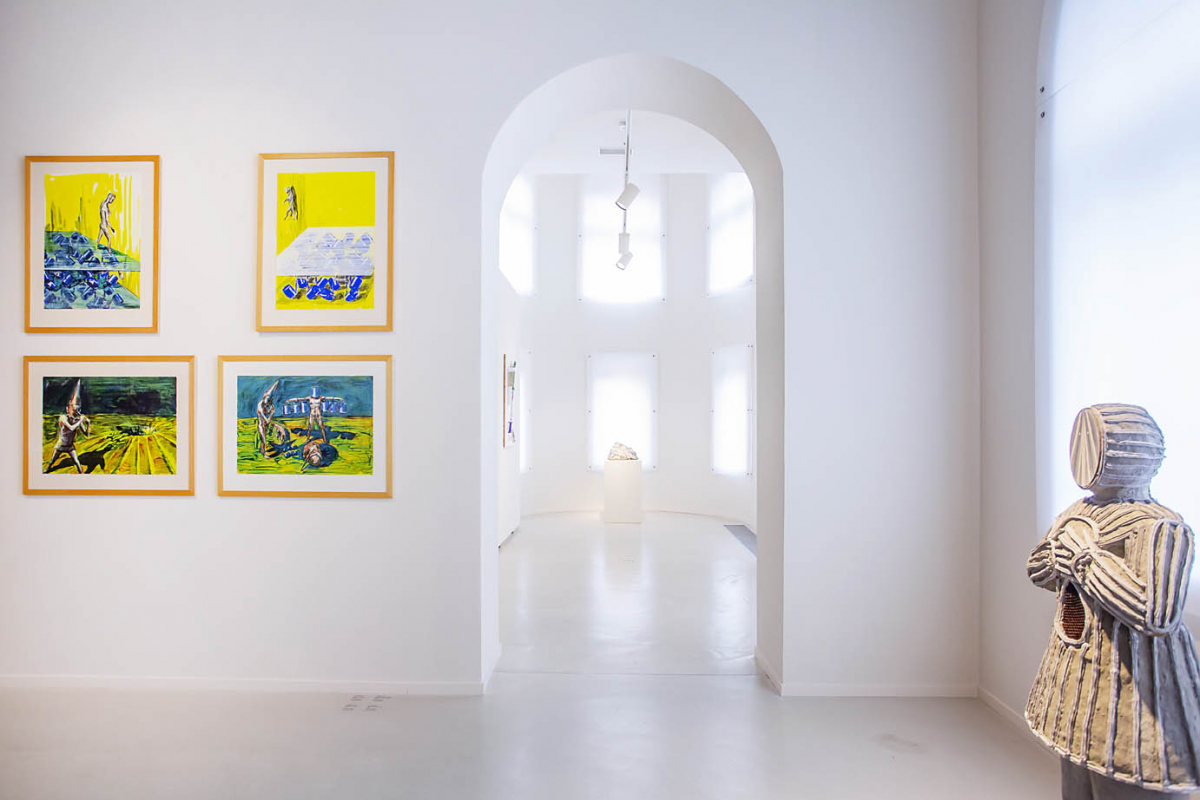 View of the exhibition. Photos © Markéta Bendová, 2022.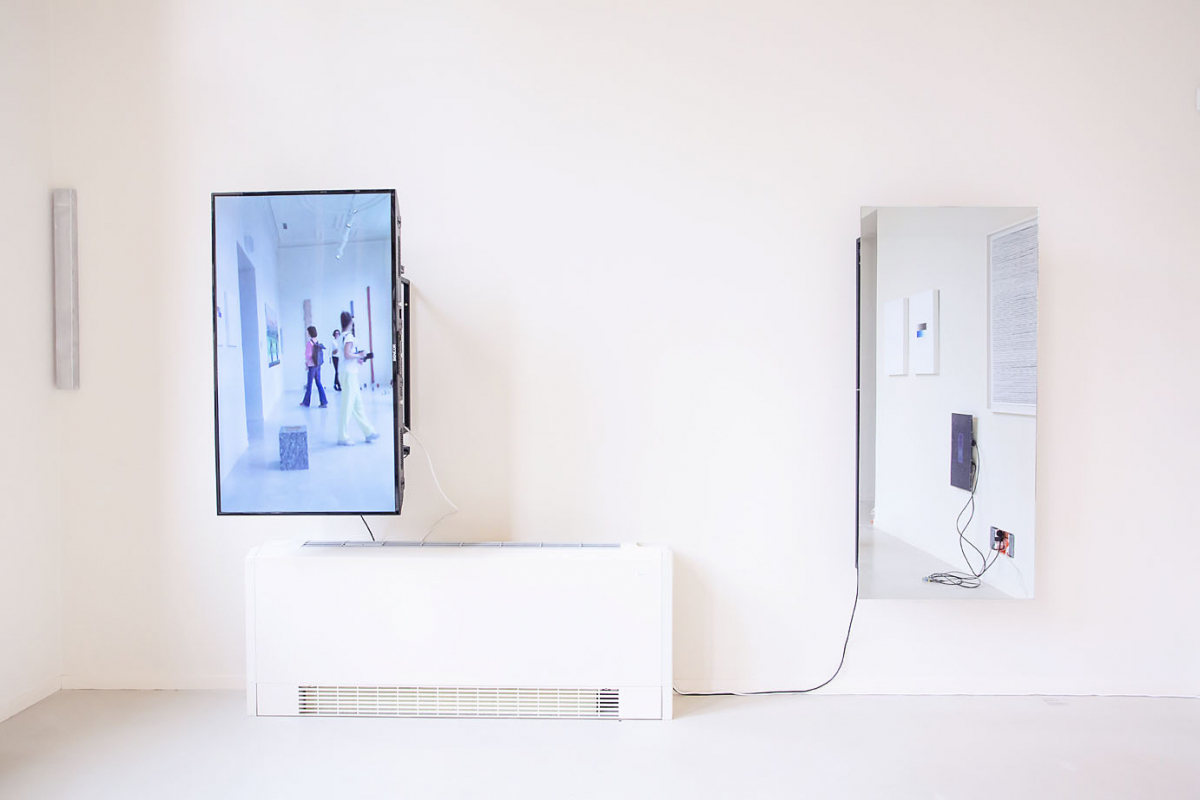 View of the exhibition. Photos © Markéta Bendová, 2022.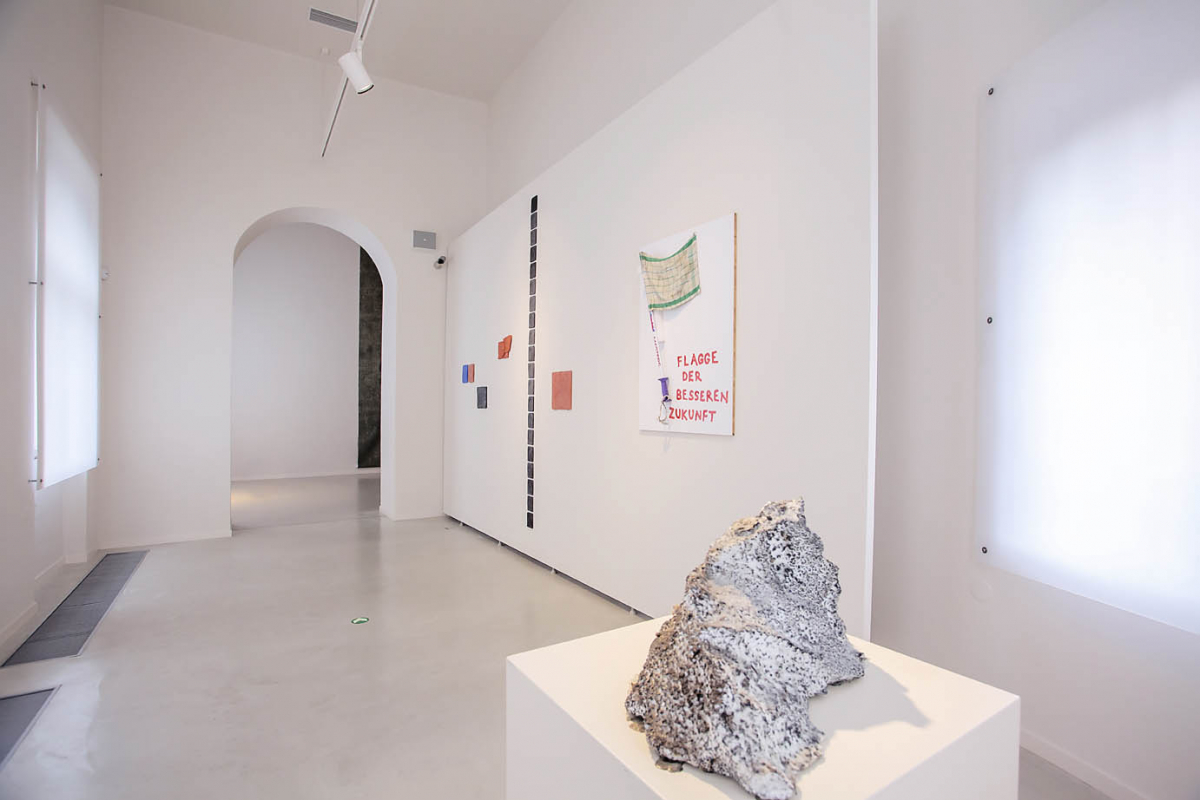 View of the exhibition. Photos © Markéta Bendová, 2022.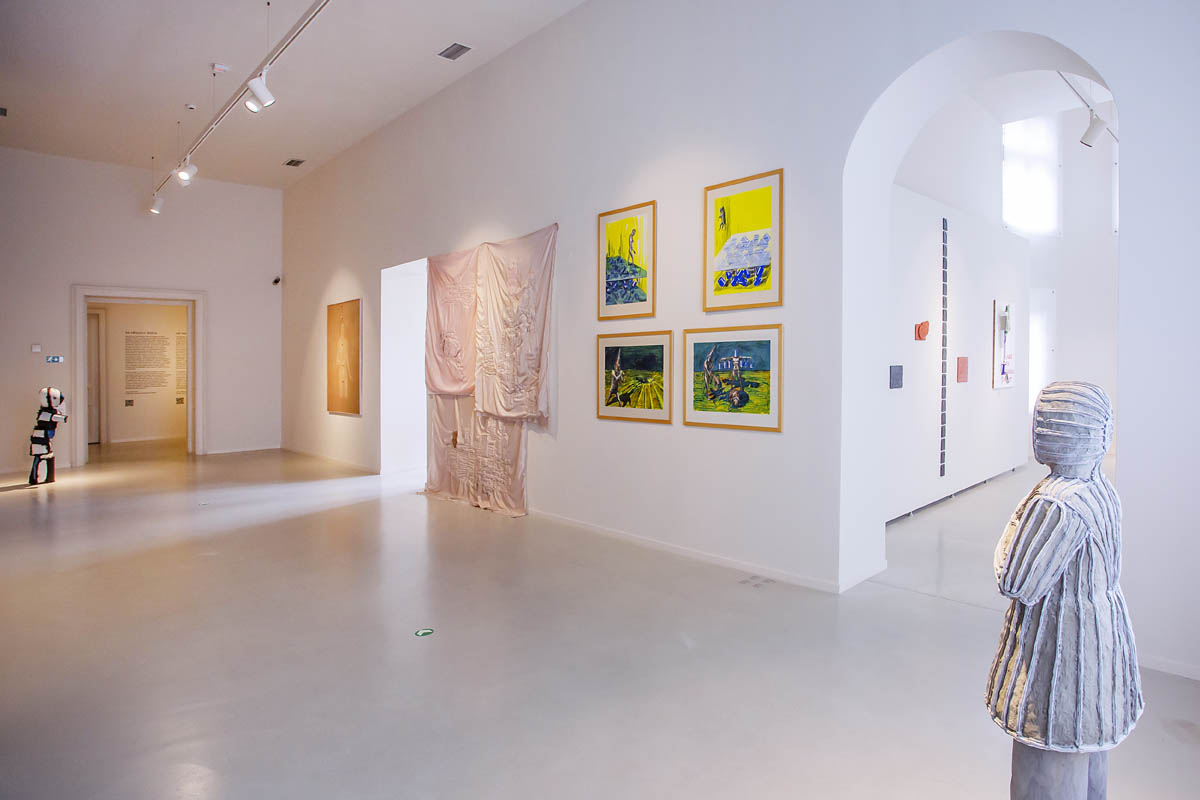 View of the exhibition. Photos © Markéta Bendová, 2022.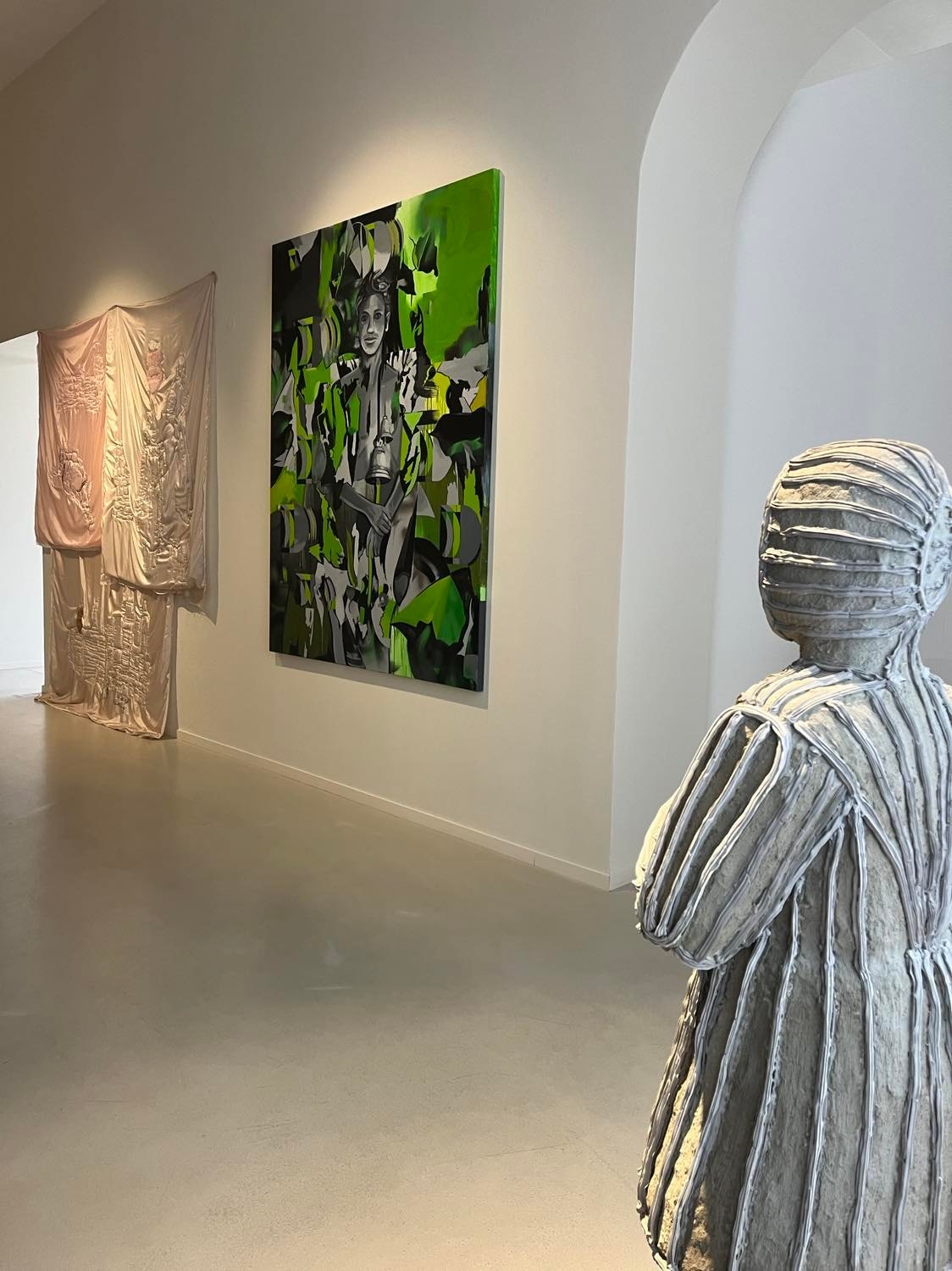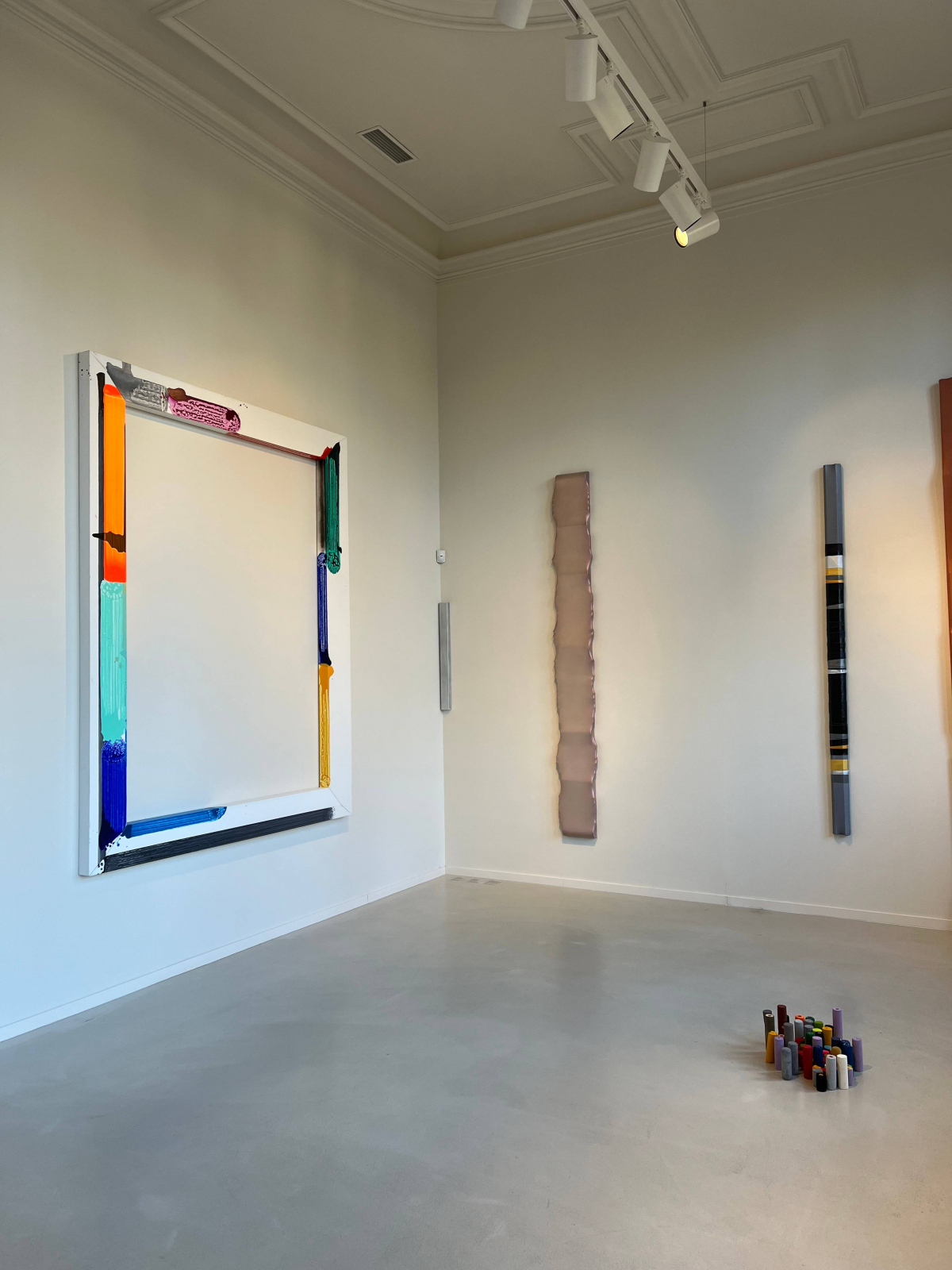 The dynamics and variability that are typical for the times we live in are reflected in the new curatorial concept. What our entire society has in common is lifelong questioning of our existence. The newly restored curtain of the Turnov theater thus creates for us an imaginary backdrop for the game of life, in front of which individual human destinies take place. It is often irony, which is so characteristic for art, that facilitates our lightness of being and helps us to overcome our personal and societal life challenges. The exhibition highlights artists from the 20th century all the way to the present, including postmodernism, post-conceptual art and current trends in fine arts. The emphasis on a figure as part of the exhibition concept is understood as the symbolism of an individual in society who is accentuated as an actor or actress, whose stage is the world itself.
The exhibition presents artworks that are based on a new figuration with the present essential optimism and irony of life (Věra Janoušková), postmodernism with the mystery of human being (Petr Nikl), post-conceptual art with a response to everyday aesthetics (Krištof Kintera) and current trends in contemporary art. That is, an archival turn (Hanna Råst, Karolina Lizurej), a new perception of information frameworks (Jana Bernartová, Petr Dub) and a level of uncertainty when using new technologies (Richard Loskot). The exhibition also represents traditional aspects of inspiration originating from mysticism (Veronika Holcová), from the allegory of everyday life balancing between seriousness and ridiculousness (Lubomír Typlt) and from mythology and Czech folk tradition (Anna Hulačová). The exhibited art media include both classical media – painting, drawing and sculpture – and intermedial forms such as objects, installations and new media.
The story bearer is a figure that accompanies us through the exhibition both in real and abstract form, and the movement of the viewer at the exhibition completes the very story of the curatorial concept. The exhibition presents both Czech and foreign artists. It is also conceived as an experimental medium, where we expect a certain alteration of exhibited artists and the expansion of the curatorial intention into the accompanying program.
Exhibiting artists: Jana Bernartová, Petr Dub, Veronika Holcová, Anna Hulačová, Věra Janoušková, Krištof Kintera, Karoliny Lizurej (PL), Richard Loskot, Petr Nikl, Hanna Råst (FI) and Lubomír Typlt.
Lenka Sýkorová
Curator and author of the exhibition project