Libuše Dlabola Pražáková | To Thee
2. 6. – 15. 10. 2023
Venue Gallery under the Swimming pool
Temporary Exhibition
Curator Lenka Patková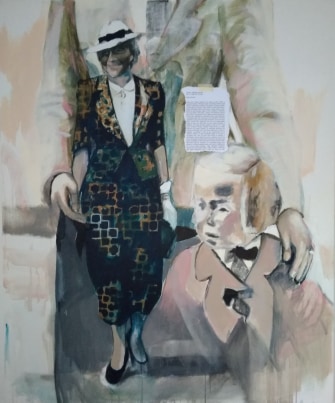 Milada, 2020, akryl a olej na plátně, 140 x 170 cm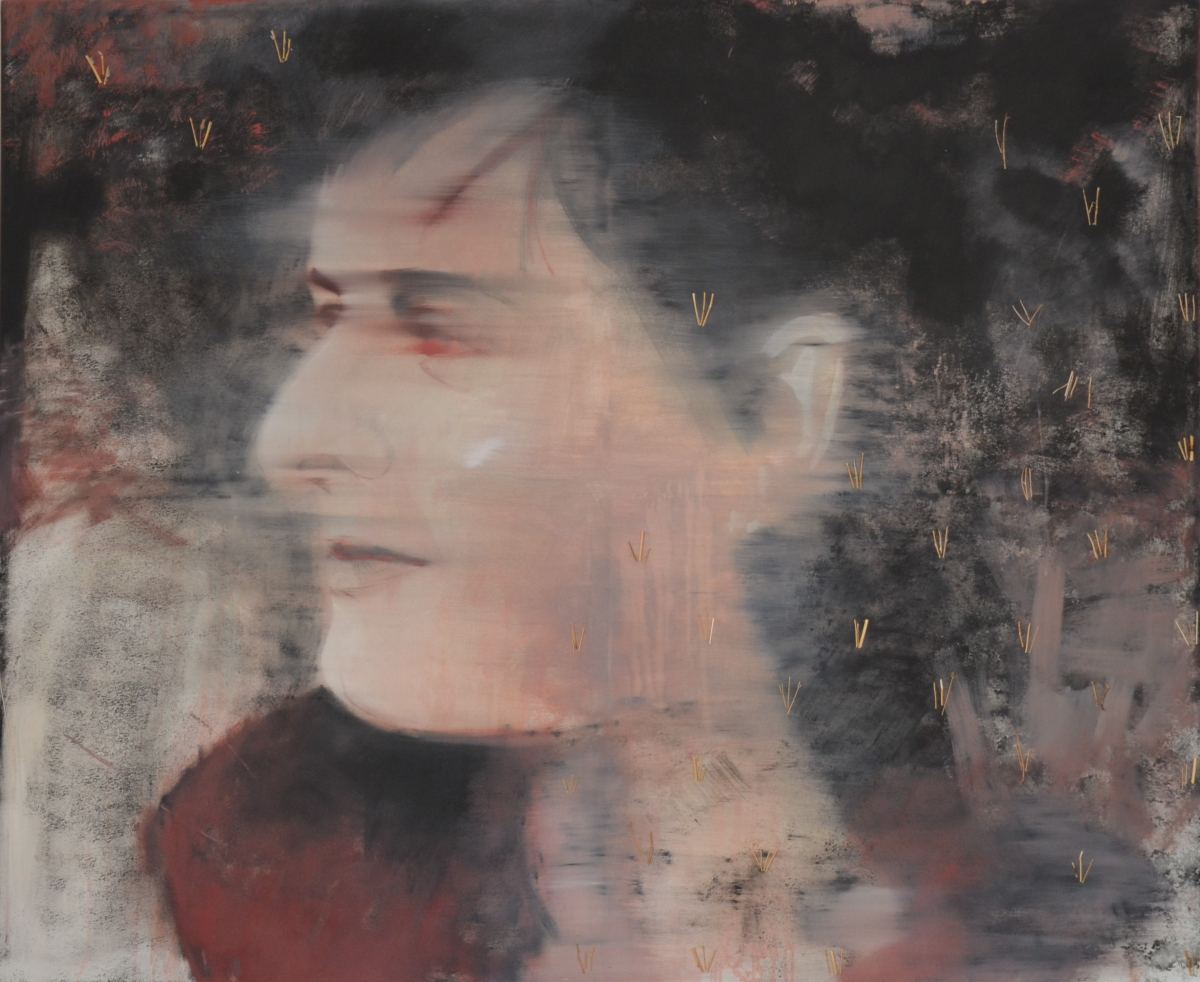 Míša, 2020, olej na plátně, 170 x 140 cm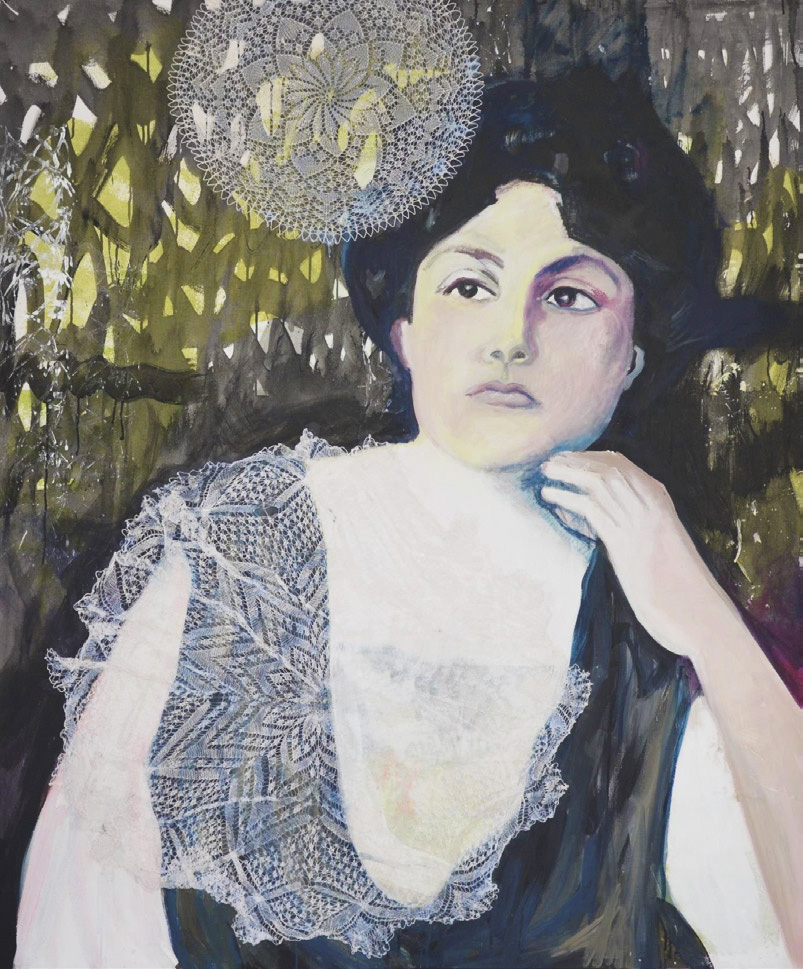 Ema, 2019, akryl a krajka na plátně, 140 x 170 cm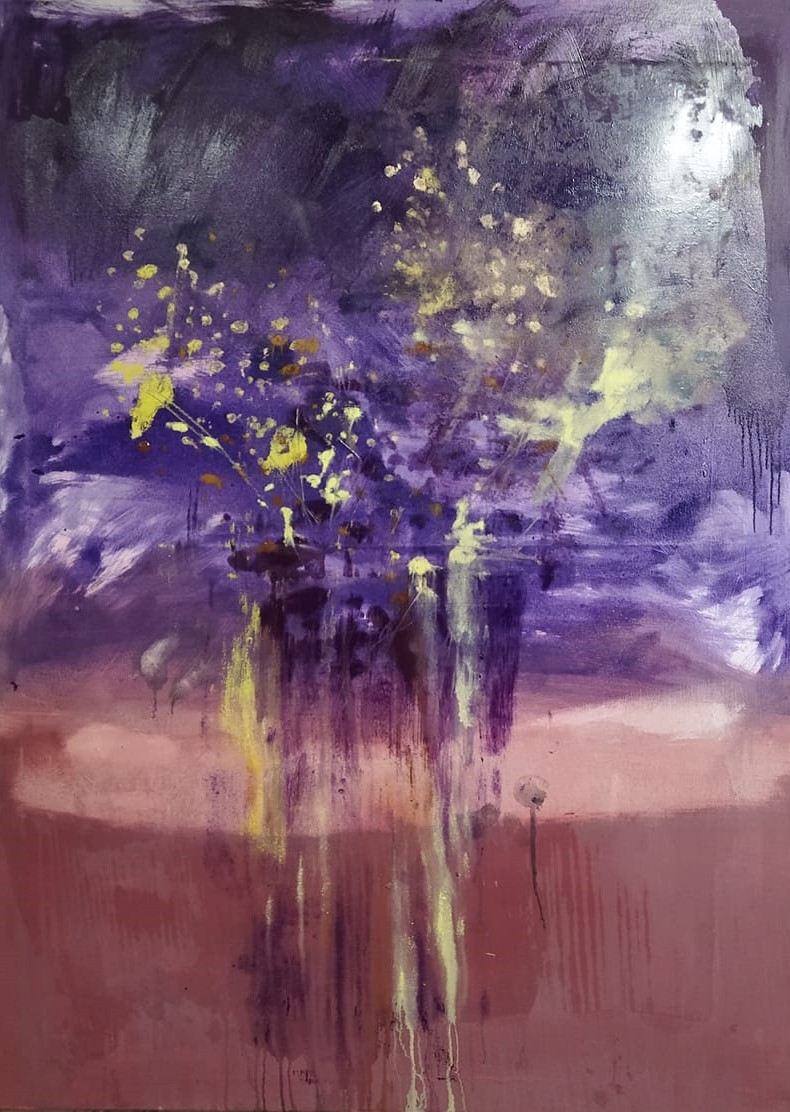 Kytka srdeční 105x140 cm Olej na plátně, 2021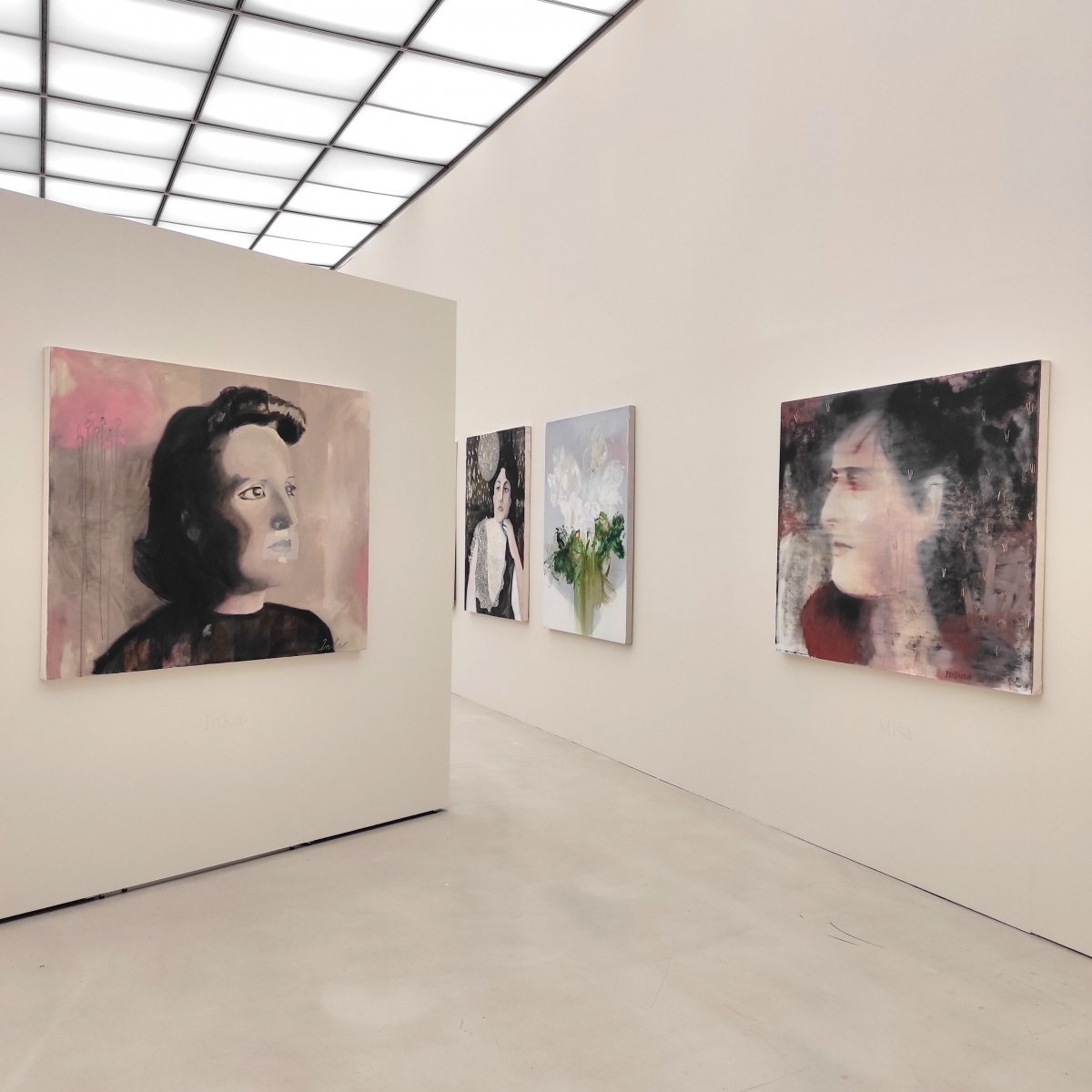 Libuše Dlabola Pražáková's cycle of paintings speaks of the character of today's women: they are inspiring, strong and independent and loving and selfless at the same time. 20th century gave birth to many women who were able to master both of these poles of being, and changed society by the way they lived their lives. Despite that, no memorials on squares remind us of them, no plaques pay homage to them on walls of houses where they were born. Libuše Dlabola Pražáková attempted to fix this historical imbalance. She painted her large-format canvases as a hommage to women. Her cycle of paintings named Tobě (To you) is intended as a celebration of every single woman, without any exceptions, as it perceives every woman as important and interesting in her own peculiar way. At least this is how the author herself sees and presents them.
Libuše Dlabola Pražáková (1984), who is a painter and a sculptor, studied sculpting (at VOŠ umění Zlín) and painting at František Kowolowský at Faculty of Fine Arts and Music of University of Ostrava. She is a mother of two sons, and lives and works in Semily. Her production is characteristic with is multi-layered character, with intersecting worlds of various planes and perspectives. In addition to thorough and skilled craftsmanship, diffusion of a high degree of personal emotional engagement and a certain amount of rationality are typical features of Dlabola Pražáková's work. Maintaining this fragile balance imbues her works with vibrating tension, and by doing this, she manages to avoid sentimentality that her works might tend towards.
Tobě (To you) cycle of paintings is her own personal portfolio of women whose life, story or experience of live appealed to her or influenced her. Portrayed are women who excelled in their line of work, but also managed to put their energy into other areas that they deemed important. Among women depicted, spectators will find e.g. Růžena Vacková, Toyen, Ema Destinnová, Inka Bernášková, Milada Horáková, Hana Wichterlová, Olga Havlová or Eliška Junková. However, the collection also includes women that are not well-known or important for society as a whole either due to the fact that they have been forgotten (such as Marie Pětrošová or Marie Husáková), or because they really do not fit into encyclopaedic listings. The reason why they are included in the cycle is purely personal; for the author, these women are related to her substantial memories, life-forming encounters - a female friend, grandmother etc.
By blurring the difference between generally accepted fame (or fame defined by encyclopaedias) and anonymity, ordinariness and commonness, the author gives account in her paintings of the woman as such, not about her role or profession. She emphasizes uniqueness of every woman, her fragility and beauty with which she can influence everyone around her, her sensitivity to various topics, and also strength and persistence, faithfulness and unpretentious resolution. She shows and defines the position and importance of women in contemporary world. Without any ostentatious sentiment, free of any pathos, she places "her" women on a notional pedestal, and invites viewers to discover themselves their uniqueness. She made each of the woman depicted a friend for herself, using their forenames – they are not cold marble memorials but living portraits of human souls. In her canvasses, Libuše requests equality, both between men and women and among women; yet still, equality does not mean sameness – equality and difference at the same time are what this cycle of large-scale painting intends to remind us of.
The floral still lives can be seen as a kind of counterpart to the storytelling portraits. Flowers are not only a decorative accessory to the aforementioned, but an independent, authentic and unmannered testimony in a painting. The author uses lively stylistic language in her floral paintings, too, and the canvass is a space where she can externalize her inner world, feelings, stories that happen around her and define her living space. These paintings that follow up on one of the oldest themes in the history of fine arts (known from the Antics) ooze with energetic immediateness and passion. Fragility and forcefulness, energy and smoothness, and mainly pure pleasure from the creation process merge in them.